Meet the Hillside Dental at Bethany Team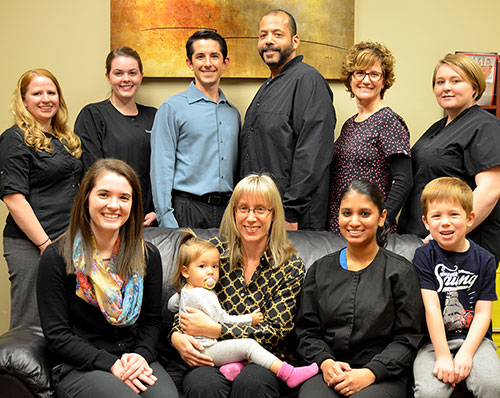 Our Team (left to right, back to front):
Carlie, Danielle, Dr. Forster, Beau, Tracey, Amber,
Kayla, Lily (Dr. Forster's daughter), Jen, Asha, Nick (Dr. Forster's son)
Our Vision
Our thriving dental office inspires patients to seek us out because we are skilled, friendly, fun and make the dental experience enjoyable.
Our Mission
By creating the most comfortable, smoothly run and friendly dental office in town, we encourage patients to be at ease, take care of their well-being and positively affect the way they think about dentistry. We put our patients first, have fun and share our positive attitude with everyone we meet.
About Our Team Members
Beau, Danielle and Asha are our licensed hygienists who will get your teeth clean. They all have many years of experience and will be happy to answer any questions you have about brushing, flossing and oral hygiene. Tracey and Christine are our Certified Dental Assistants with EFDA, EFODA and radiology certifications. They are available to assist with your dental needs and make your visit with us as comfortable and pleasant as possible. Kayla is our Patient Care Coordinator who will assist you with scheduling appointments, treatment planning, account inquiries and insurance billing. Carlie is our Assistant Office Manager and Financial Coordinator who takes care of various administrative tasks and focuses on account issues and insurance billing. Jennifer is our Office Manager who you might see filling in at the front desk or hovering around in the background keeping the business on track.
We are certified with the American Heart Association for CPR training for health care providers. Come visit us and experience dentistry at its best.